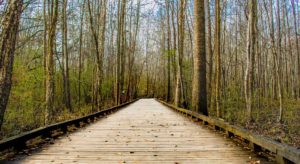 Spring is here! It is the perfect time to get outside and  take advantage of the wonderful trails that Charlottesville has to offer.  Here is a list of 5 trails to hike this spring: 
1. The Saunders-Monticello Trail: This trail is a fan favorite! You can start at the bottom and stop at the top for restrooms, water, gift shop, and an introductory film at the David M. Rubenstein Visitor Center at Thomas Jefferson's Monticello. The trail is 4 miles.
2. Rivanna River Trail: The Rivanna River Trail is about 2 miles long and along the Rivanna River. Conveniently located next to the Riverview Park for some fun before or after!
3. Ivy Creek Natural Area: The Ivy Creek Natural Area is nestled between the Ivy Creek and South Fork Rivanna River Reservoir and offers 7 miles of trails for all ages!
4. Chris Greene Park: Chris Greene Lake will make the whole family happy! It has 3 miles of trails, a dog park, a beach, and playground. It's a great place to have a picnic!
5.  Preddy Creek Park: Preddy Creek has 10 miles of beautiful nature trails including horseback riding and mountain biking trails!
Happy Trails!